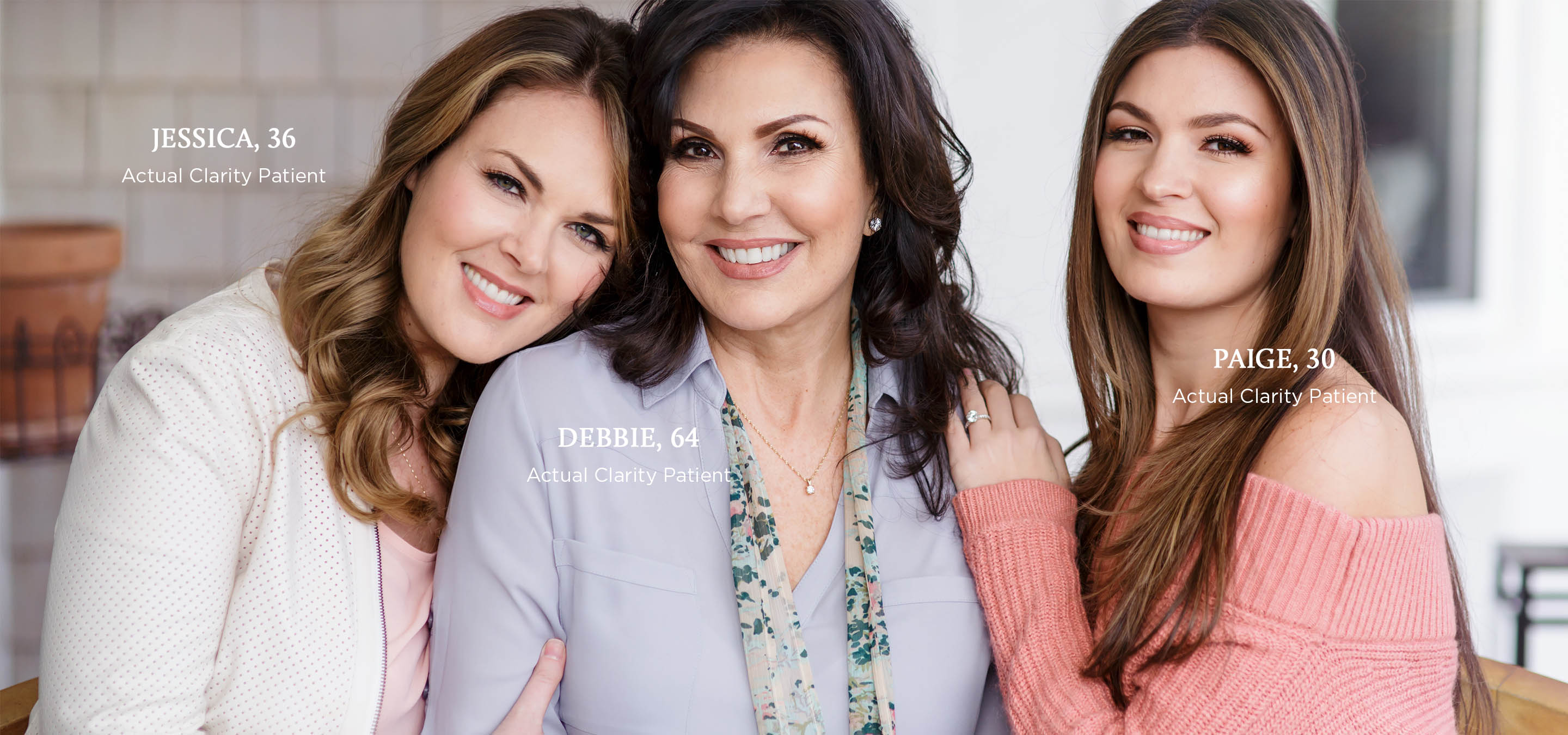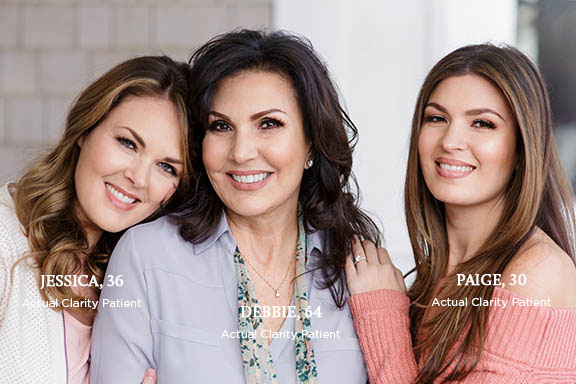 Vibrant, healthy skin is revealed for a glowing complexion.
A chemical peel is a clinical treatment designed to remove the surface layers of skin while creating a mild stimulus of collagen, elastin and keratinocyte activity.
How it works:
A chemical peel is a specifically formulated solution, when applied to the skin, aids in rapid regeneration of skin cells. The process of shedding dead skin, this removal of top layers, not only allows for deep absorption of your skin care products, but also increases your body's production of collagen and elastin. The "good stuff" that restores a youthful glow to skin. Clarity Medical Aesthetics offers several types of medical grade chemical peels to help you achieve vibrant, glowing skin.
Illuminize
Our gentlest peel, it's best for mild fine lines and wrinkles, and to brighten overall appearance of skin. Patients experience minimal to no peeling.
Vitalize (our most popular peel)
This peel works to smooth the appearance of fine lines, wrinkles and roughness. This peel formula will jump start a dull, dry, rough complexion. For most skin types, a series of six treatments spaced four to six weeks apart will reveal glowing, smoother skin. Patients can expect mild to moderate flaking and peeling within 48 hours.
Rejuvenize
This chemical peel is most effective for moderate to severe skin imperfections such as lines, wrinkles and dark patchy areas. A series of peels is required to obtain optimal results.
Melasma
This peel is specially formulated to aid in lightening the appearance of hormonally induced pigment changes. Patients suffering from melasma know it is a difficult skin condition to treat. Hormone fluctuations, heat, sun, and physical exertion can all contribute to the condition. However, there is hope! With peels and proper at-home skincare, the experts at Clarity will guide you through the process.
Quiet Redness/Rosacea
Formulated with active ingredients to help "quiet" the redness. A series of three peels is recommended with routinely scheduled maintenance peels and at-home skincare.
What you can expect:
At the beginning of your appointment, Clarity's medical staff will thoroughly clean and assess your skin. Any underlying impurities will be medically extracted and your skin will be prepped. The medical acid will be applied to your skin for a measured period of time. Then, you may feel intense warmth and flushing while the acid is on the skin. This feeling may come and go for the next few days. Typically, your skin will be beautiful for the first day or two prior to the skin peeling. The skin will shed for up to 10 days depending on the type of peel used. Some people notice shedding in certain areas more than others, and some people don't shed at all. Your skin will give up what it needs to. Clarity's medical staff will make sure that you have the appropriate products to protect your new skin and enhance your results after your peel.
Chemical peels are recommended in a series if you are trying to change or improve the appearance of your skin. They are recommended quarterly for overall skin health.
Contact Clarity Medical Aesthetics today at 203.903.1455 to schedule your complimentary chemical peel consultation.
I'm not usually one for writing reviews but this absolutely deserves one. I have struggled with scarring and hair on my face for years. I had my first facial peel a couple days ago and I am already feeling more confident then I have in a very very long time! Kati is absolutely incredible I would recommend her to anyone! I am excited to continue my progress.
-Julia T.
Please note, results may vary. Your treatment options will be clearly reviewed with our medical professionals during your complimentary consultation.